Counselor's Resource Guide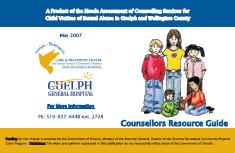 This guide was created by the Guelph-Wellington Treatment Centre for Sexual Assault & Domestic Violence at the Guelph General Hospital. It includes a list of counselling services, as well as resource lists for therapists, parents, teens and children on the topics of child sexual abuse, child physical abuse, emotional abuse, foster care and bereavement.
Coming Soon…
A gender-inclusive response to COVID-19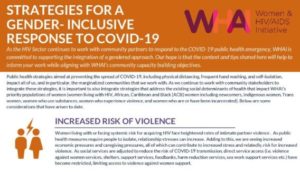 As we adjust our work to reduce the spread of COVID-19 while still ensuring access to critical services, we are also trying to find ways to ensure important gender-specific information is available for communities across Ontario. After reviewing various public health notices and resources, Women's HIV/AIDS Initiative (WHAI) has compiled the following list.
Domestic Violence First Contact Checklist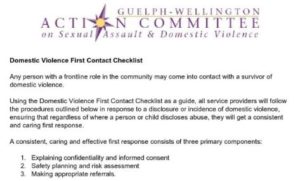 Any person in the community may come into contact with a survivor of domestic violence. 
Using the Domestic Violence First Contact Checklist as a guide, service providers can follow the procedures outlined below in response to a disclosure of domestic violence, ensuring that regardless of where a person or child discloses abuse, they will get a consistent and caring first response.